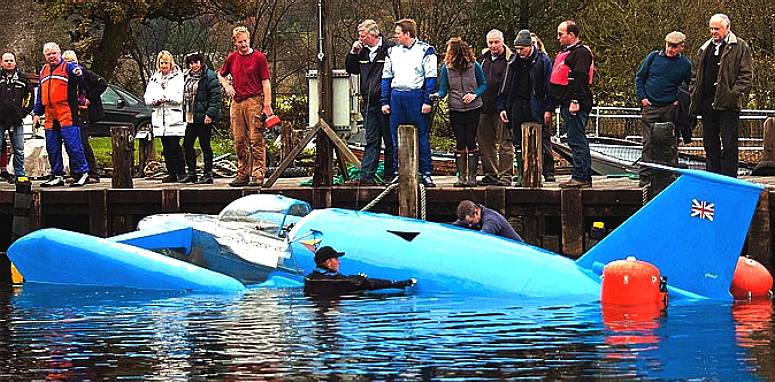 A replica of the K7 jet boat sinking on Lake Coniston. The original always had flotation problems, needing to be filled with ping-pong balls, and very careful acceleration to avoid being scuppered. Later, the recovered and rebuilt K7, became the subject of litigation between Bill Smith and the Ruskin Museum in Cumbria. Litigation and breaches of contract seem to dog Bluebird projects. The Campbell Curse, or lore. Bill Smith had rebuilt the wreck of the K7, at his own expense. But the Ruskin Museum was refusing to honor the terms of agreement, under which Mr Smith undertook the massive restoration task. We feel for both parties, but one cannot expect a free lunch, as it appears relatives of Donald Campbell appear to believe is their right - allegedly. Mr Smith is entitled to benefit from the efforts of his labours. The breach of contract situation, voids any agreement with the Ruskin Museum. Since Bill Smith was the diver who located and raised the K7 wreck, it is arguable that he is the rightful owner, unless, he is properly compensated. By way of further agreement. And this time, we'd suggest money changes hands well before any handing over of whatever Mr Smith decides he may want to pass to the other side.

On a glorious Bank Holiday weekend in 1990, Victor Von Woolfe was displaying one of his hand built creations at the Bexhill 100 motoring event at Bexhill-On-Sea, in Sussex, England.
The car he had on display was unusual in not having a steering wheel or brake and accelerator floor pedals. It was powered by a 3 litre V6 engine, making it quite nippy. Victor was driving the car up and down the seafront, showing off the (patent) joystick controls, and how quickly the car accelerated. The vehicle soon drew the attention of the Press.
At that time Victor was working on a revolutionary refueling system for electric vehicles, hydrogen fuel cell or battery, using exchangeable energy cartridges. He had designed an electric land speed record car, to demonstrate how useful it would be to be able to recharge an EV almost instantly. By way of a marketing/awareness campaign.
Stunning form, and an incredibly slippery aerodynamic body. Some argue this is one of the most beautiful electric land speed record cars to come off Victor's drawing board. Victor was a skilled wood and metal worker. A competent Welder-Fabricator, and CAD qualified using Autocad. He hand crafted this vehicle in his Sussex workshops in just a few weeks, landing more sponsorship in the process.
Victor was also friends with Paul Foulkes-Halbard (PFH), a collector of historic vehicles, at the Filching Manor Motor Museum, a couple of miles from Polegate in East Sussex, England. PFH was an expert on all things Campbell. He'd recently acquired the rotting wreckage of Sir Malcolm Campbell's K3 water speed record hydroplane from Thorpe Park. Which he set about restoring, but could not get a substitute Rolls Royce Merlin based tank engine to start. And, the R37 engine owned by PFH at that time, was simply too valuable to run habitually. Victor showed Paul how to start the tank engine, just in time for the K3 to be displayed at the Bexhill 100 event.
As present, the English legal system denies citizens a right to an effective remedy. Now falling to King Charles to correct. This situation is held to be sinful, mentally torturing his subjects, and thus must be remedied. Since King Charles is not only the head of the (at present) dysfunctional government in debt to the tune of £2.4 trillion pounds, but also head of the Church of England . A religion invented by the British butcher, Henry VIII, to enable him to bed multiple wives. Where the Catholic faith would not allow such multiple sexual liaisons in purity. Indeed, as the Prince of Wales, the divorce from Diana, Princess of Wales, is worth a second look, constitutionally. It is high time Britons considered a Written Constitution to replace the at present Constitutional Monarchy, so shot to bits as to Human Rights abuses. Instead of the present system of Gongs, that upset the independence of the Courts.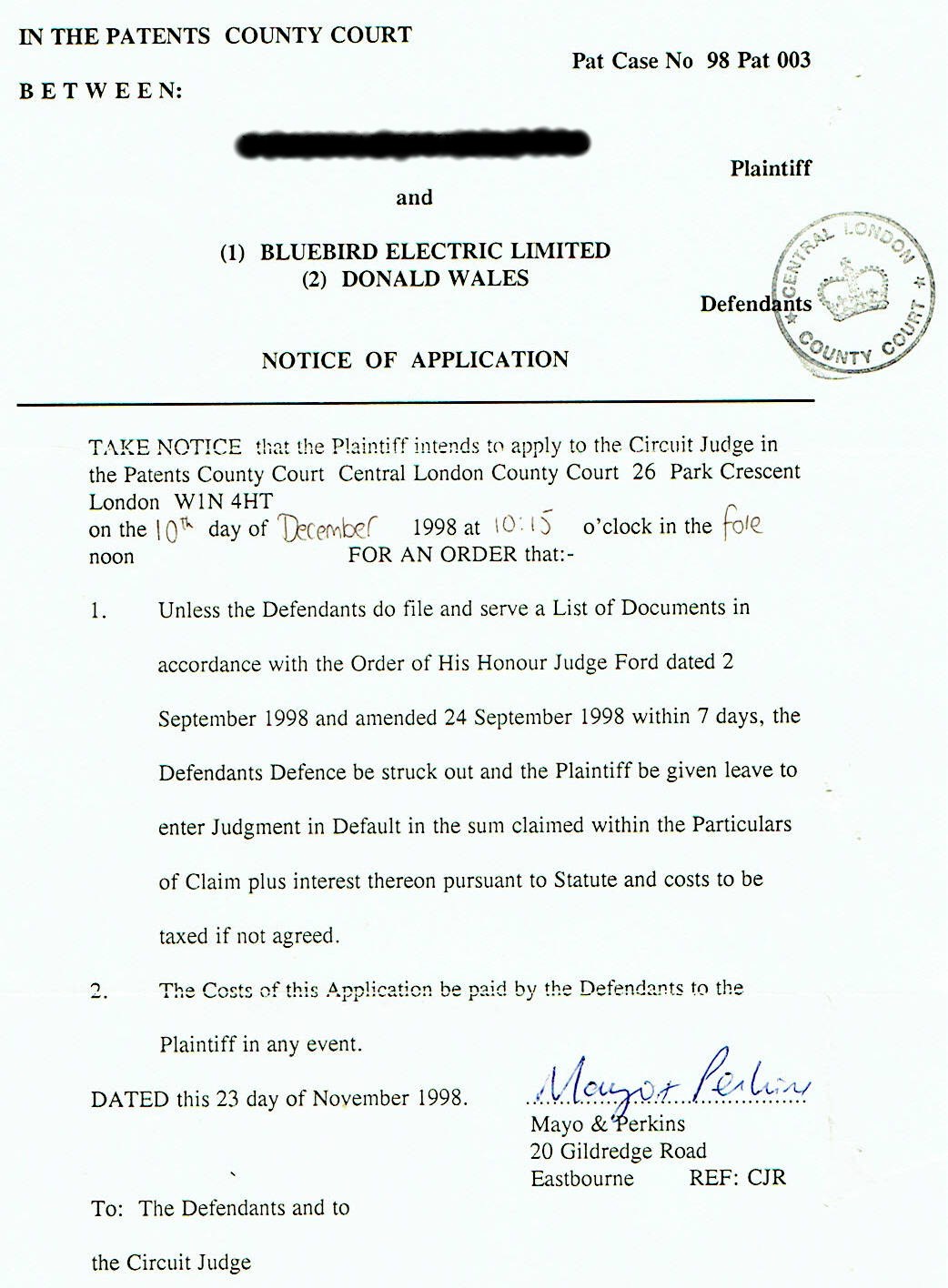 Action against Donald Wales in person and as director of Bluebird Electric Limited, not to infringe the rights of the Plaintiff, with a money claim of approximately £62,000 attaching, to be assessed by the Court.
Court Order 10th December 1998, for return of Glassfibre bodywork, chassis and wheels, and not to infringe the right of the Plaintiff in the Registered Design for Bluebird-Electric. Note, that by this time the vehicle had been displayed at the Bluebird Store in London, and at Pendine Sands for Bluebird Holiday Homes. Generating some £155,000 pounds income. Whereas, the money claim attaching was around £62,000 pounds. The Plaintiff subsequently offered to take half the claim @ £31,000. But Don Wales refused to countenance any payment. Preferring to transfer the assets of the Bluebird Electric Limited, to another company, to take them out of reach of the Claimant. It is alleged that such a move may constitute Fraud, under the Theft Act 1968, when viewed against the applicable Company law. There is no statute of limitations in cases of fraud. However, Sussex police refused to look into the allegation of fraud. Instead, they raided the Plaintiff's offices, on the complaint of Don Wales, that such documents were not genuine. On discovery that the documents were genuine. They did not prosecute Don Wales for wasting police time. This is just one element of a claim against Sussex police, alleging institutional discrimination and victimization. Where Sussex police is alleged to have conspired with Wealden District Council's officers, to avoid investigating multiple allegations of Planning Fraud. Don Wales is known to have at least one friend serving as a District Councillor. It is also alleged, the Wealden illegally passed documents they had on file, to Don Wales. These documents have been redacted to protect the identity of the Plaintiff.
ENTER DON WALES
A local writer, Steve Holter, had written a book about the Campbell racing vehicles, and through his researches, knew of Donald Wales. The photographer from Surrey, was invited to Bexhill to cut a ribbon, as the V12 Rolls Royce engine was fired up to amuse the crowd, with the distinctive roar from it's silencer free engines.
Adjacent to the K3, PFH had very kindly arranged for Victor's joystick car to be displayed. This caught the eye of Don Wales, who was curious as to the lack of steering wheel, and obvious turn of speed of the alloy bodied creation. At this chance meeting, Victor explained to Don, about his electrically powered land speed record project. To be called: "Bluebird-Electric."
Much as PFH and many others had been caught up in the Campbell racing cars, Victor had named his steed in recognition of Donald and Malcolm Campbell's achievements. It was rather unfortunate that Don, did not have the same surname as his ancestors, meaning considerably more branding and public relations effort would be required on Victor's part. But despite this branding drawback, and the lack of racing experience of the visitor to Bexhill, Victor offered Don Wales that chance to drive his 'Bluebird-Electric LSR vehicle.' This was a verbal offer.
The verbal offer was followed up by a formal offer of the same in a letter from Victor to Don. Some months later, Don Wales replied in writing, accepting Victor's offer. This was in 1991.
It was understood, that Don's surname, would cause confusion amongst the Press reporters. But, Victor thought he might obviate such difficulties, by putting his car on display at Beaulieu, the National Motor Museum, alongside the CN7 jet car belonging to Donald Campbell.
Then, Don Wales locked Victor out of his own project, with (it is alleged) help from Lord John Gould of Worth Farm, Uckfield, who had provided a shed in which Victor's BE2 was stored temporarily, pending display in London, at Sir Terence Conran's Bluebird Store.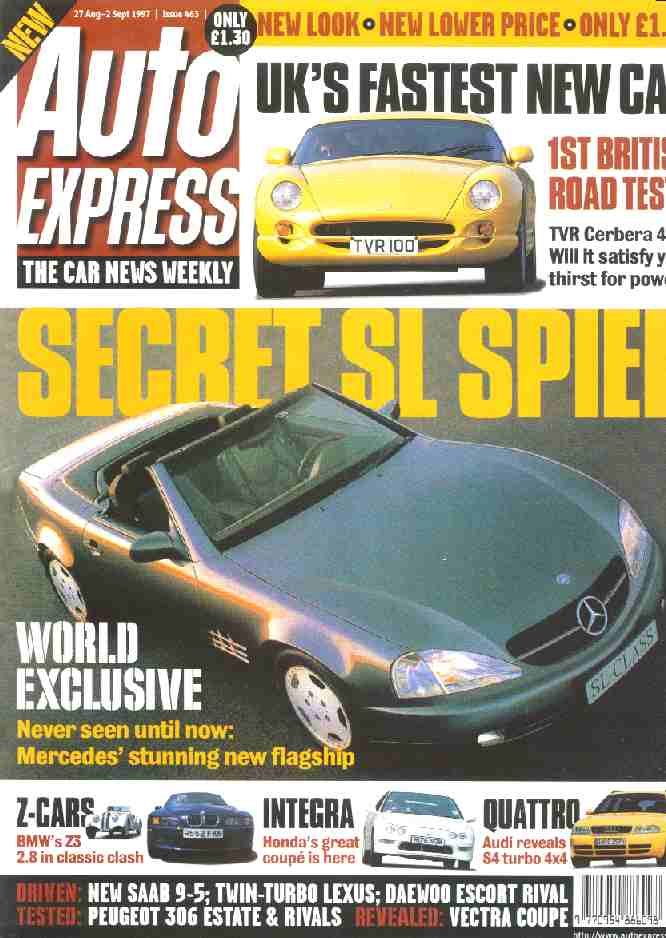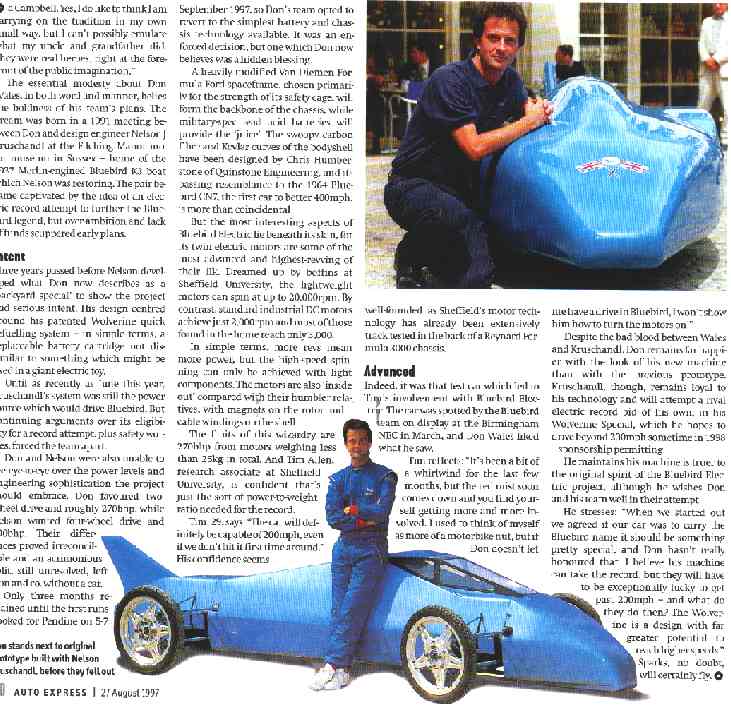 Victor's electrically powered Bluebirds, 1 and 2. Codenamed BE1 and BE2 is court papers. The Bluebird-Electric 2 was more advanced. Don did not like the idea of sitting ahead of the front wheels in the BE2. Meaning that he'd probably never have piloted the K7 like his uncle, at high speeds.
It took a hearing in the London Patent Court, where return of Victor's BE2 vehicle was Ordered.
Then came the raising and restoration of Donald Campbell's Bluebird K7, by Bill Smith. Fifteen years of labour and attendant specialist rebuild of the wreckage, in which Donald lost his life. But, Ruskin Museum refused to honour the terms of an agreement with Mr Smith. More of the same. The Campbell's and follow on caretakers, out for a free lunch. With no consideration for the value of the time and specialist services of others. Underscoring the treatment metered out to Victor. The only person not being cheated, being Ken Norris. Who refused to work for Donald Campbell, without payment up front.
Where Donald Campbell is held to be a brave man, Don Wales is a self-confessed coward, according to an article in the motoring press between 1997 and 1998. Nothing wrong with that of course. Better to admit it, and work around that fear.
REFERENCE
https://