From the reading of media reports, and looking between the lines, you may care to agree, that men like Bill Smith (BS) are extremely rare. A chap with the fortitude and determination to search for and discover the remains of a vessel that has been lost for so many years in freezing Scottish waters. Then, to follow through with some fifteen years of painstaking restoration, and all on the promise of use of the craft for his own purposes, for so many months of the year.
How many people would have that kind of devotion, and who could afford to spend so much time on such a project. Not many people, that is for sure.
What puzzles us, is that with so much of the bodywork and mechanicals restored, that Bill does not simply build himself a new frame, (also using the frame parts he has already made) and put all his body panels and mechanicals on, to complete a full K7 replica. That is what we'd be tempted to do, given the lack of sympathy from Ruskin Museum and the Campbell family. We feel sure the British public would applaud his efforts, and admire the engineer for going his own way. For sure, the vessel would be just as famous, as the wreckage he might return. Though, in a breach of contract situation, a court might rule that he's the legal owner, having possession and the other side refusing to be reasonable.
Any Order from a Court, might decide that in the interests of not disturbing the restored craft, that Mr Smith is the legal owner, based on the percentage he's contributed, being greater than the sadly corroded wreck he began with, but that he should allow Ruskin Museum to display the boat for so many months of the year. Probably during the tourist season.
A Court might impose harsh financial penalties on Ruskin Museum, should they renege on any Order. To prevent the Museum from deciding to Breach any Order.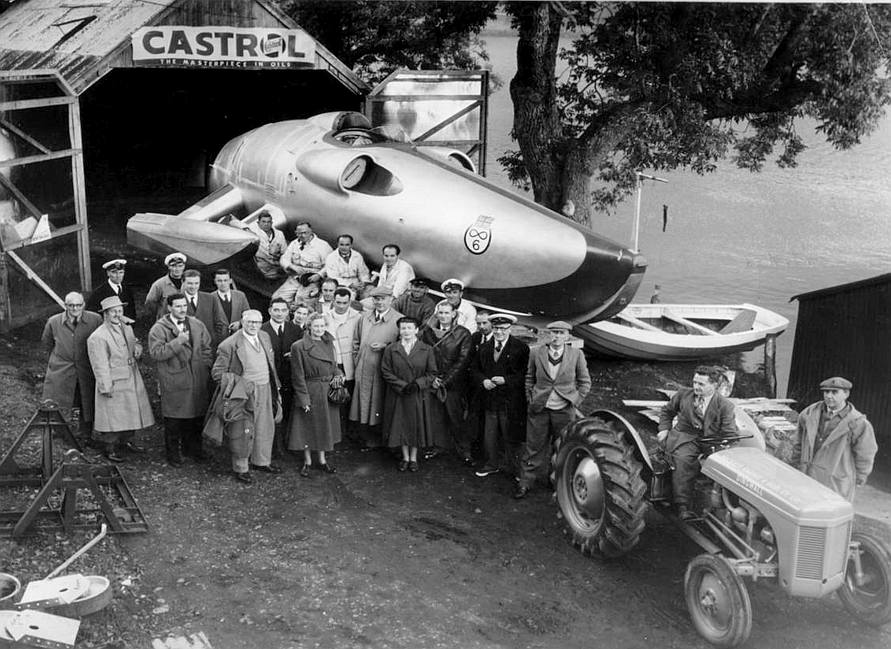 London-based speedace John Cobb had already set the land speed record when he attempted to gain the fastest speed on water on Loch Ness on 29 September 1952. After travelling at 206mph (331.5km/h) his boat broke up and he was killed.

The wreckage of the Crusader, the jet-propelled boat Mr Cobb used in his fatal water attempt, was found at the bottom of Loch Ness in 2002. He was aiming to beat the water speed record of 178.4mph (287.1km/h) held by the American Stanley Sayres.

On his first run Mr Cobb, a London fur broker, recorded 206mph, the first man to travel at such a speed on water. But yards beyond the mile marker, when he should have turned round and repeated the distance, he hit three freak waves.

The craft broke up and sank, catapulting Mr Cobb into the loch. One eyewitness described the flimsy red and yellow pieces of the Crusader on the water as being like "autumn leaves". Most of the craft disappeared.

Mr Cobb's body was recovered after the crash, but for 50 years the wreckage of the Crusader has lain undiscovered 200m (656ft) down in the depths of Loch Ness.
We feel sure that Donald Campbell would have wanted his K7 to run on water from time to time. Not to be closeted away where nobody could enjoy the spectacle of the 'Blue Lobster' skimming over the water at breathtaking speeds. Though, perhaps not at the speeds that finally saw his demise.
Donald Campbell was a brave man. Some might also say foolish, in his impatience. On the final run, he did not stop to refuel as arranged. He also knew he'd be going into the choppy wake of his first run. Where he was supposed to wait for calm.
Ken Norris knew about the limitations of the design. Advising Donald of that. But Campbell could not afford to pay for design upgrades, instead making weight balancing modifications. Where, aerodynamic tailfin aids, such as on Ken Warby's 'Spirit of Australia' were needed. And proved effective in 1977 then repeated in 1978, setting the current outright unlimited world water speed record of 317.6mph. And that record stands today.
One thing we all learned from Donald Campbell, is how dangerous water can be at high speed. Something speed ace John Cobb found to his detriment in 1952.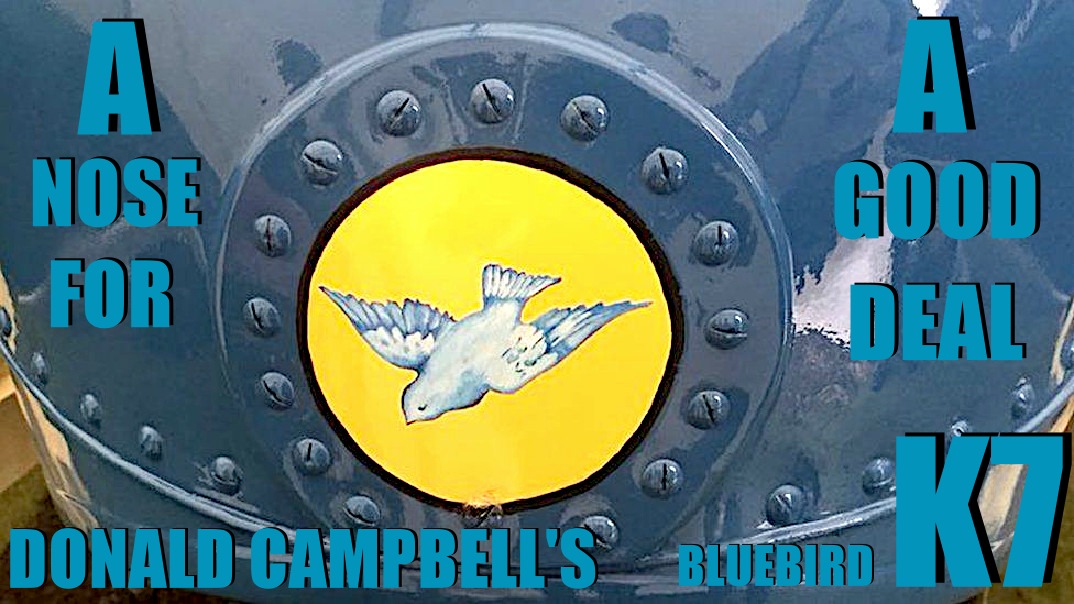 Judging by the past performances of anyone involve with the Campbell racing family, we'd want any Agreement to be in the form of a Deed of Covenant. Such as to be strictly enforceable. With costs to be paid by the Ruskin Museum and Campbell Trust, in default. Such an agreement was reached between Victor Woolfe and Don Wales. But still Mr Wales tried to wriggle out of the agreement. Even, enlisting the help of his chums at Surrey and Sussex police, to raid his victim's home, by way of harassment, designed to force the Colonial Bulldog into abandoning his rights. Yes, it is true, this actually happened. It's called a SLAPP action.
It is Victor Woolfe's experience, that anyone getting entangled with relatives of Donald or Malcolm Campbell, will eventually end up with some kind of contractual dispute. Typically breach of contract, such as not being paid for services rendered. For some reason, decedents of the land and water speed record 'father and son,' aces, appear to think that others should expend their time and money, for free. Essentially, it appears as though they are out for a free-lunch. Since they never roll up their own sleeves, and toil to reap the rewards, they aspire to. As they stand beside whatever vehicle, soaking up the limelight, to further their own careers.
This may be because they never actually designed or built anything themselves. Simply hopped into the driving seat and pushed the pedal hard. Taking all of the glory, without any of the toil or perspiration.
There is a famous letter from Malcolm Campbell to Rolls Royce, complaining about the performance of one of their V12 Merlin engines, as a reason not to pay. Ken and Lewis Norris also had problems getting paid, notably from Donald Campbell, who was always short of money due to his playboy lifestyle. Then Victor was not paid, ending up having to obtain an injunction in the London Patent Court, against Don Wales. Forcing the return of the Bluebird-Electric 2, or BE2.
Not being paid seems to be a recurrent theme (allegedly) for anyone providing services to the Campbell family, or subsequently down the line. With Bill Smith, being the latest victim, where his work is not being correctly valued, or valued at all. Including little accord for loss of opportunity. [Chaplin v Hicks [1911] 2 KB 786] As it appears Ruskin Museum and Gina Campbell, believe that they can in effect, steal the time and money Mr Smith has expended on the K7 restoration project, and take away the use of the boat for promotional and other potentially remunerative runs, and offer nothing in return. Another free lunch. All dependent on the wording of a written agreement - if there is one - or other recording of a gentleman's agreement, sealed with a handshake. A section 40 legal agreement, that is equally binding, but harder to prove in a court of law.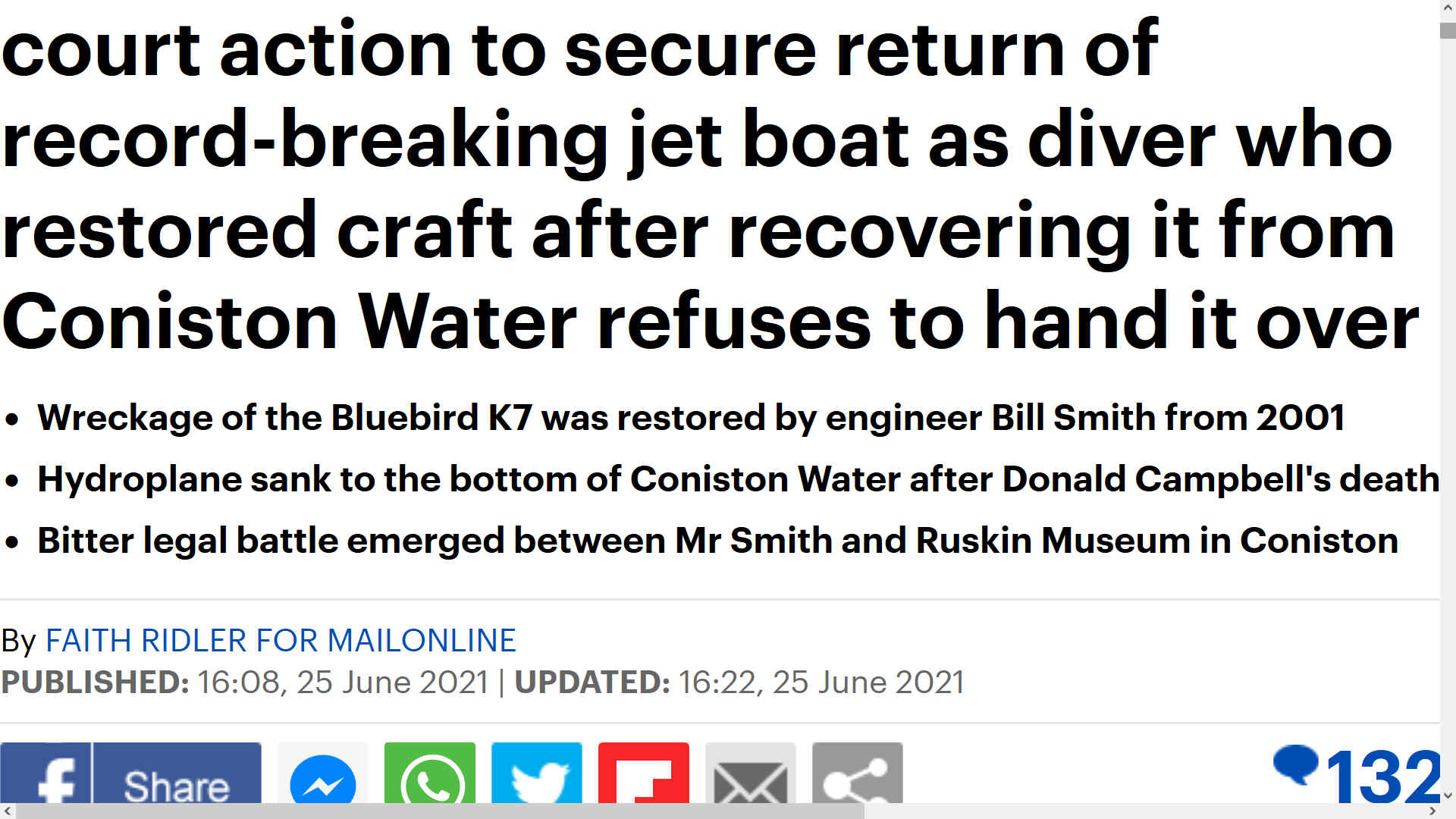 NWE MAIL 2 JULY 2022 - BILL SMITH KEEN FOR A MEETING WITH RUSKIN MUSEUM OVER BLUEBIRD K7

A RETIRED engineer who restored a famous hydroplane has said he is 'bang up for' a meeting with the museum he has been at loggerheads with over the future of the historic vessel.

Coniston's Ruskin Museum and Bluebird Project's Bill Smith have been engaged in a long-running tug-of-war over Bluebird K7, the vessel in which water-speed record-breaker Donald Campbell perished at Coniston Water in 1967.

The dispute centres around the conditions for the return of Bluebird to the museum following restoration by Mr Smith's team on Tyneside.

Bosses at the Ruskin Museum, who want the boat returned for display at the museum, are hoping to meet with Mr Smith to discuss the future of the vehicle.

Mr Smith, who wants to run the restored hydroplane on water for part of the year, said his team had been trying to secure a meeting with the museum for 'a very long time'.

It comes after two Bristol Siddeley Orpheus Engines were gifted to the museum for the future use in Bluebird K7 by French-based Company, Global Hardware.

The company, which among other projects, restores aircraft, said it was also making a direct financial contribution to the museum to go towards any legal costs that may be incurred in getting Bluebird K7 into the Bluebird wing of the museum.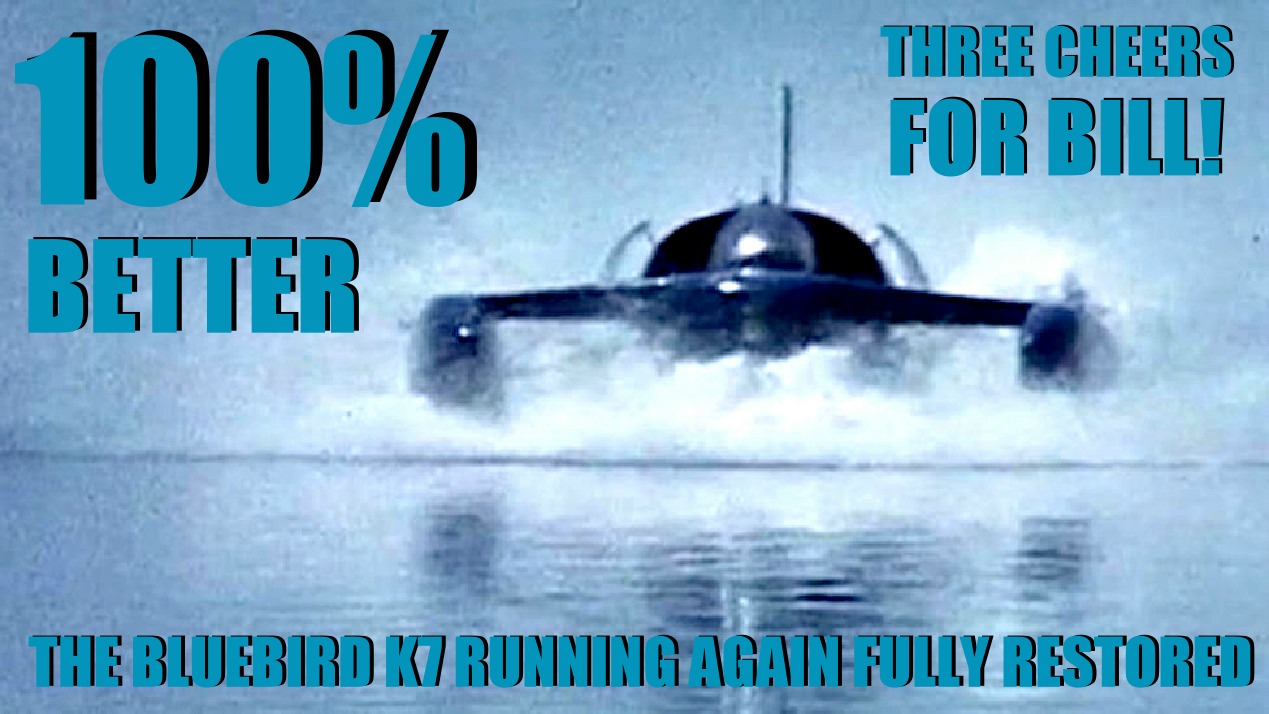 The wreckage, which the Campbell family gifted to Coniston's Ruskin Museum in 2006, was handed over to Mr Smith on the understanding that, once restored, it would be returned to Coniston.

However, despite the completion of an £800,000 purpose-built extension to house the boat in 2010, Coniston is still to see the boat's return.

Jeff Carroll, vice chair of trustees at the Ruskin Museum said: "This is a fantastic gift to the museum and helps enormously.

"The fight to 'Bring Bluebird Home' continues and the gift of these engines and a possible third unit is extremely important as K7's current engine is on loan to The Bluebird Project (BBP) and is not in dispute; we always knew that we would have to source an engine and a reserve elsewhere.

"These engines are increasingly rare beasts, so this is an amazing donation and shows the huge support we are generating for K7 being brought home.

"We are currently in discussions with Bill Smith of BBP with the intention of holding a meeting between him and representatives of the museum in the coming days to see if we can get Bluebird K7 to her spiritual home in Coniston, without resorting to legal action. To be clear these talks would be an opportunity to understand if the BBP stance has changed at all and see if any common ground exists.

"We have also asked Mr Smith to return K7's engine air inlet duct assembly including the bullet nose, which we would like to fit to the engines when we "dry" run them prior to installing one in the hull of K7.

"Mr Smith claims that the assembly was in poor condition when retrieved from the boat, and the substantial remedial work required gives the restorers title to the component, which we would dispute. However, our access to extensive photographic records and discussions with experts shows that the part was incredibly well preserved with only minor restoration works needed."
[If work was needed on any part, then ownership becomes an issue, with the work done, time, materials, skills, gives the person undertaking that work, a lien on the part. Though, we'd suggest making a duplicate part, and returning the original in the condition it was found. Leaving Ruskin, to settle for breach of contract. Including loss of opportunity, where it had been agreed that BS would benefit from use of the K7. (Chaplin v Hicks [1911] 2 KB 786)]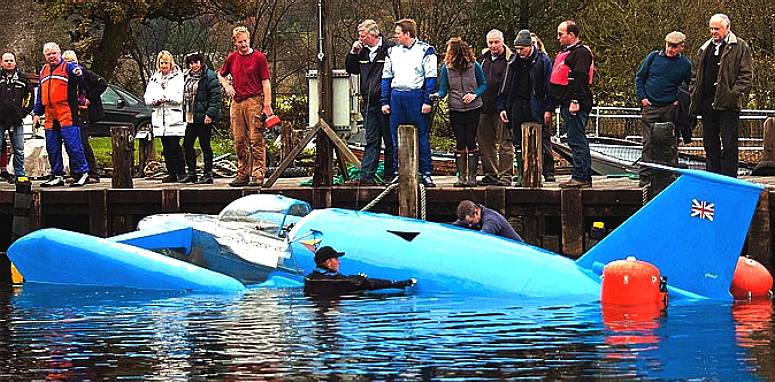 A replica of the K7 jet boat sinking on Lake Coniston. The original always had flotation problems, needing to be filled with ping-pong balls, and very careful acceleration to avoid being scuppered. Later, the recovered and rebuilt K7, became the subject of litigation between Bill Smith and the Ruskin Museum in Cumbria. Litigation and breaches of contract seem to dog Bluebird projects. The Campbell Curse, or lore. Bill Smith had rebuilt the wreck of the K7, at his own expense. But the Ruskin Museum was refusing to honor the terms of agreement, under which Mr Smith undertook the massive restoration task. We feel for both parties, but one cannot expect a free lunch, as it appears relatives of Donald Campbell appear to believe is their right - allegedly. Mr Smith is entitled to benefit from the efforts of his labours. The breach of contract situation, voids any agreement with the Ruskin Museum. Since Bill Smith was the diver who located and raised the K7 wreck, it is arguable that he is the rightful owner, unless, he is properly compensated. By way of further agreement. And this time, we'd suggest money changes hands well before any handing over of whatever Mr Smith decides he may want to pass to the other side.
Mr Smith, who was among the divers to retrieve the wreckage, said: "The Bluebird Project has been trying and trying for a long time to get a meeting.

"We need to sit and talk about this, it's promising.

"I'm bang up for it.

"It was the dream from day dot that we'd build a boat that was capable of running.

"When you make something that can be run you can't just let it stand around to deteriorate. [Indeed, Beaulieu regularly run their exhibits, to keep them in good order]

"It was always agreed that the Bluebird Project, being the most experienced team, would therefore look after it and we would also operate it and take it out on water, that was always the deal.

"Now it would appear that they're trying to go back on that deal.

"We spent 15 years, heart and soul, building a machine that we were going to look after and operate and they were going to display it.

"And that's what we want, we just want what was agreed.

"It was a win win, they'd get the best team to look after it and keep it in the public eye and they get to show it the rest of the time.

"We can't run it all year, that would be crazy, and the rest of the time it has to go somewhere."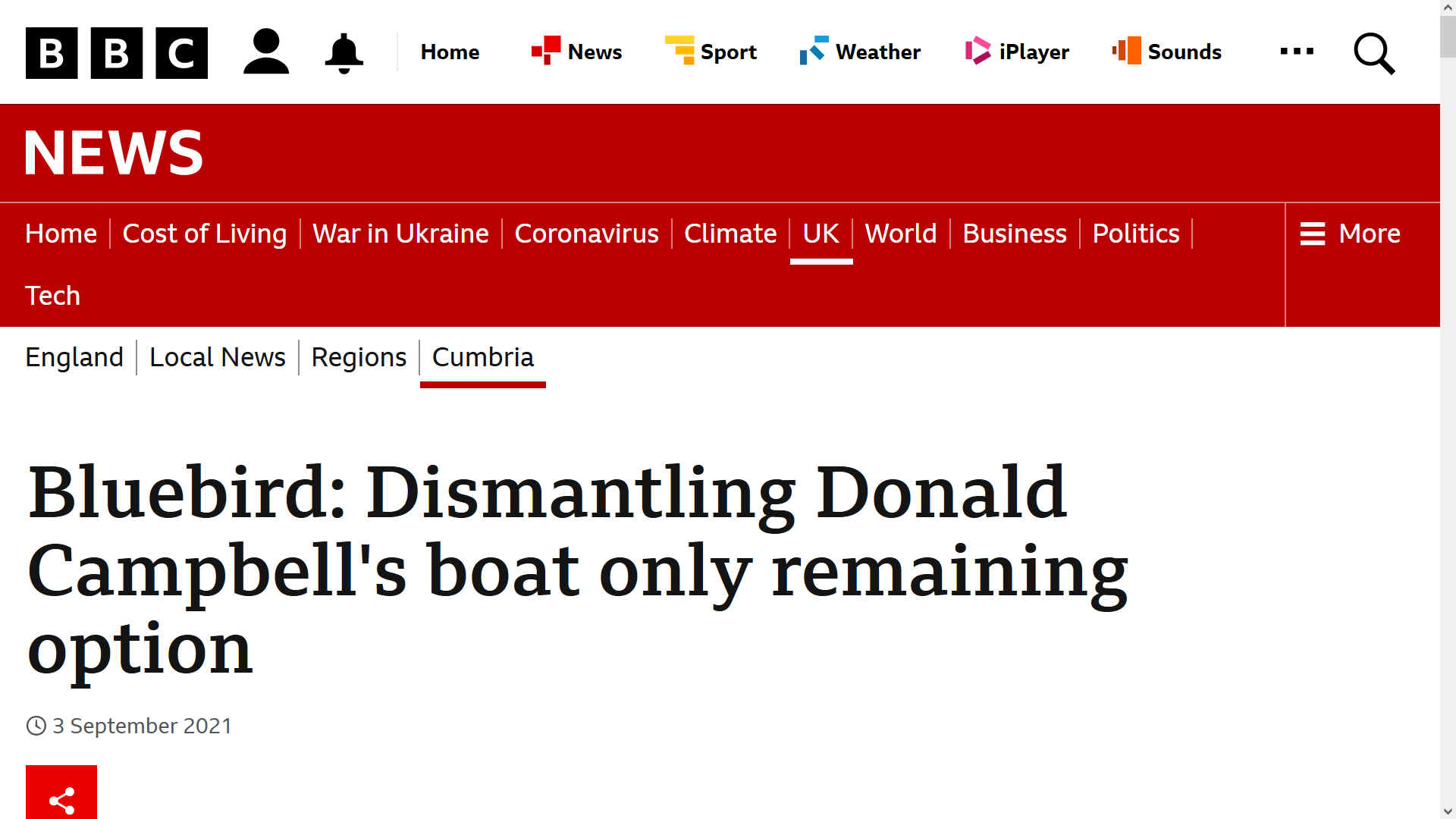 NWE MAIL 4 SEPTEMBER 2021 - BLUEBIRD K7 MIGHT HAVE TO BE DISMANTLED

A FAMOUS hydroplane that has been the subject of a dispute spanning many years may have to be separated and its parts handed out to bring an end to the saga.

Coniston's Ruskin Museum and retired engineer Bill Smith have been engaged in a long-running tug-of-war over Bluebird K7, the vessel in which water-speed record-breaker Donald Campbell perished at Coniston Water in 1967.

The dispute centres around the conditions for the return of Bluebird to the museum following restoration by Mr Smith's team on Tyneside.

Tracy Hodgson, museum manager, said the museum team was 'running out of options' and that Mr Smith had been given a deadline of August 31 for the return of Bluebird.

Now the deadline has passed, she says, the museum is faced with two options.

"We either go to court, which will be a very lengthy and expensive process," said Mrs Hodgson, 45.

"Or spread the parts [of Bluebird K7] out - him give us our parts back." [Presumably, with Ruskin offering to pay for that process at professional rates, plus loss of opportunity, plus workshop rental over the period, in going back on what was promised.]
Mr Smith, 54, who lives in Northumberland, said if a conclusion to the dispute meant Bluebird was 'turned back into a million bits and the museum gets a lot of pallets to mess about with' then 'so be it'.

Mr Smith said he and his team had used 'poetic licence' when it came to the claim they had used 95 per cent original materials during the restoration.

Much of Bluebird, he says, was scrapped at the time of the accident - either from the surface of Coniston Water or after retrieval by divers - and it was a stripped-back vessel that he recovered from the lake in 2001.

"We only had half a boat," he said. "We used 95 per cent of 50 per cent."

He accused the museum of trying to reduce the 'complicated job' of Bluebird's future down to 'what they can handle'.

"And the only thing they can handle is to put it in a museum and shut the door," he said.

Mrs Hodgson said solicitors were in dialogue with Mr Smith regarding the next steps, although Mr Smith said he had not been contacted as yet this month.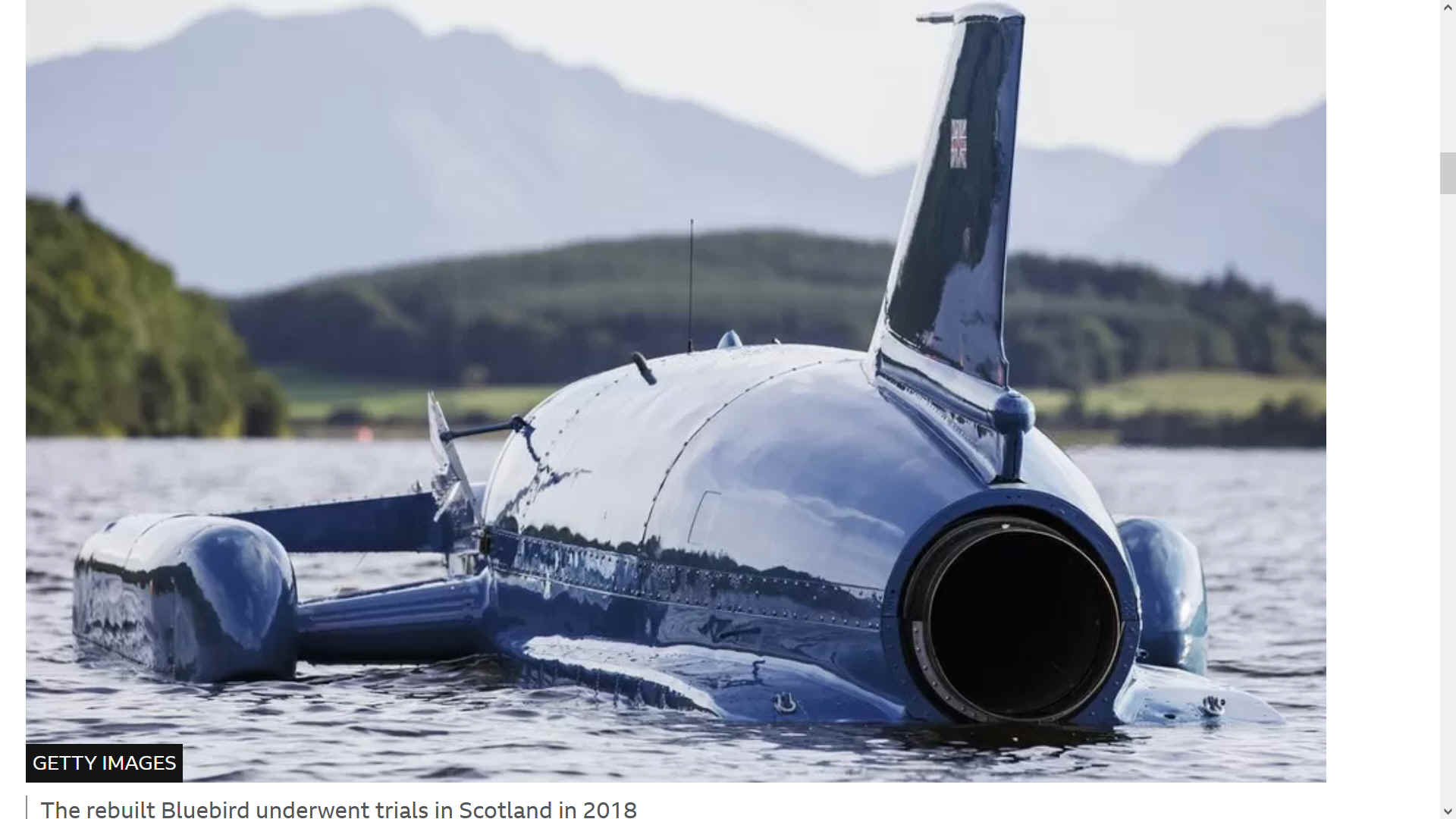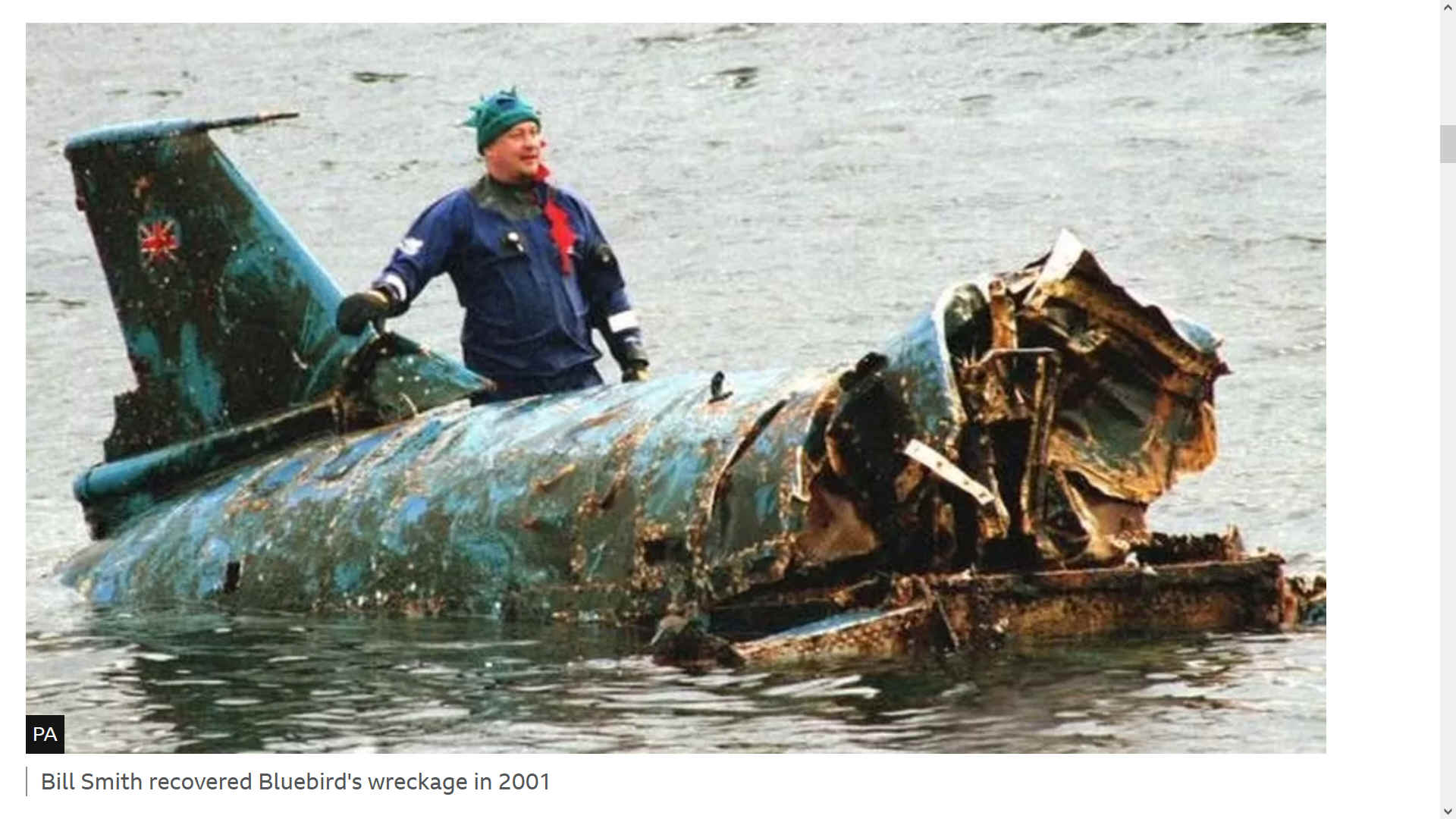 MAIL ONLINE 25 JUNE 2021

Bitter legal row over Donald Campbell's Bluebird: Museum begins court action to secure return of record-breaking jet boat as diver who restored craft after recovering it from Coniston Water refuses to hand it over

- Wreckage of the Bluebird K7 was restored by engineer Bill Smith from 2001

- Hydroplane sank to the bottom of Coniston Water after Donald Campbell's death

- Bitter legal battle emerged between Mr Smith and Ruskin Museum in Coniston

A museum has launched legal action to secure the return of Donald Campbell's restored Bluebird, which sank to the depths of Coniston Water 54 years ago.

The wreckage of the hydroplane - the Bluebird K7 - spent decades underwater after Mr Campbell, 45, was killed when it flipped and broke in half on January 4, 1967.

It was given to the Ruskin Museum in Coniston, Cumbria, by his family, and later sent to engineer Bill Smith, who has worked to rebuild the vessel since it was located in 2000.

The museum has now asked for the boat to be returned after their relationship 'broke down', and a bitter legal dispute has emerged between the two parties.

Mr Smith, 54, whose restored Bluebird made its return to water on Loch Fad, Scotland, in 2018, has refused to return the boat in its entirety, instead saying it should be taken apart and divided. [Without doubt, he is the owner of those parts]

He claims his team - the Bluebird Project - had restored around 'half a boat' while the other half was built 'from scratch' inside his workshop in North Shields.
[Not sure on the division between structural, decorative finishes and motive power. Since, the engine as recovered was not operable. Nor was the paintwork in good condition.]


Under Mr Smith's proposal, Ruskin Museum would be given the original components - the wreckage - while his team would keep the remainder of the vessel.

'It's a tragedy, but it's their tragedy,' he said. 'We have achieved what we set out to achieve. All they can have is bits of metal.

'They can't have our memories, our experiences, the places we have been, the things we've done through the Bluebird Project.

'That's ours to keep. When you look at it on the scale of what you get from it, emotionally and experience-wise, some bits of tin-ware going down the road, it's nothing in comparison.

'The museum was given half a boat in 2006. We restored their half and we created what was missing from scratch. That part belongs to us.'

Trustees of the Coniston Institute and Ruskin Museum say they were initially 'grateful to Mr Smith and relieved' when he offered to restore the vessel to her former glory.

They hope to see the boat displayed at their building near Coniston Water, under plans which would allow Mr Smith to take it out on the water for 90 days a year.

However, this proposal came with a caveat that would require the craftsman to seek permission from a committee before launching the vessel.

The result is a desperate legal wrangle, with the museum wanting the boat back in its entirety, while Mr Smith says it will be taken apart and divided.

This would see the original components, in essence the wreckage, returned to Ruskin Museum, while Mr Smith retains the rest of the vessel.

'The only deal we had initially was that they would display it and we would operate it and maintain it,' he said.

'They said that they would give us 90 days access to the boat, but only subject to the approval of the committee.

'What we wanted was 90 days unencumbered access. Taking a boat out on water is very weather dependent and decisions need to be made quickly.

'If we had been asked to build a museum piece we would not have agreed. We accepted an offer to build a fully operational boat and that's what we did.'

Mr Smith and his team took Bluebird to Loch Fad on the Isle of Bute in August 2018, where she launched for the first time since her demise half a century earlier.

Mr Campbell set a world water speed record of 276.33mph in Bluebird in at Lake Dumbleyung in Australia three years before his death. The current record is 318mph.

His daughter Gina Campbell has called for the Bluebird to be returned to the museum, where it was donated following her father's death.

Mr Campbell was killed whilst making a bid for his eighth water speed record in January 1967, attempting to raise it to over 300mph on Coniston Water.

The museum insists the 'original aim' of the project was to rebuild the boat for permanent display in their purpose built Bluebird Wing, which cost £800,000.

A spokesperson for the museum said: 'It is with profound sadness that the Trustees of the Coniston Institute & Ruskin Museum can confirm they have started the process against Bill Smith and The Directors of The Bluebird Project to gain possession of their property namely the record breaking jet hydroplane K7 formerly owned by Donald Campbell CBE.

'This action is very much the last resort, with relationships having irretrievably broken down in late 2019, following efforts by The Museum and the Campbell Family Heritage Trust (CFHT) who gifted the boat to The Museum in 2006, to find an amicable solution to the claims made by Mr Smith regarding ownership and his intentions for the boat.

'It is not our intention to comment further on this dispute in public but rather allow matters to be addressed by the lawyers who represent each party.'

Jeff Carroll, Vice Chairman of the The Coniston Institute & Ruskin Museum, added: 'It is not my understanding that the boat will be broken up, and the wreckage returned to us.

'We are calling for Bluebird to be returned to the museum in one piece.

'Mr Smith talks about ownership but that can only be decided by a court.'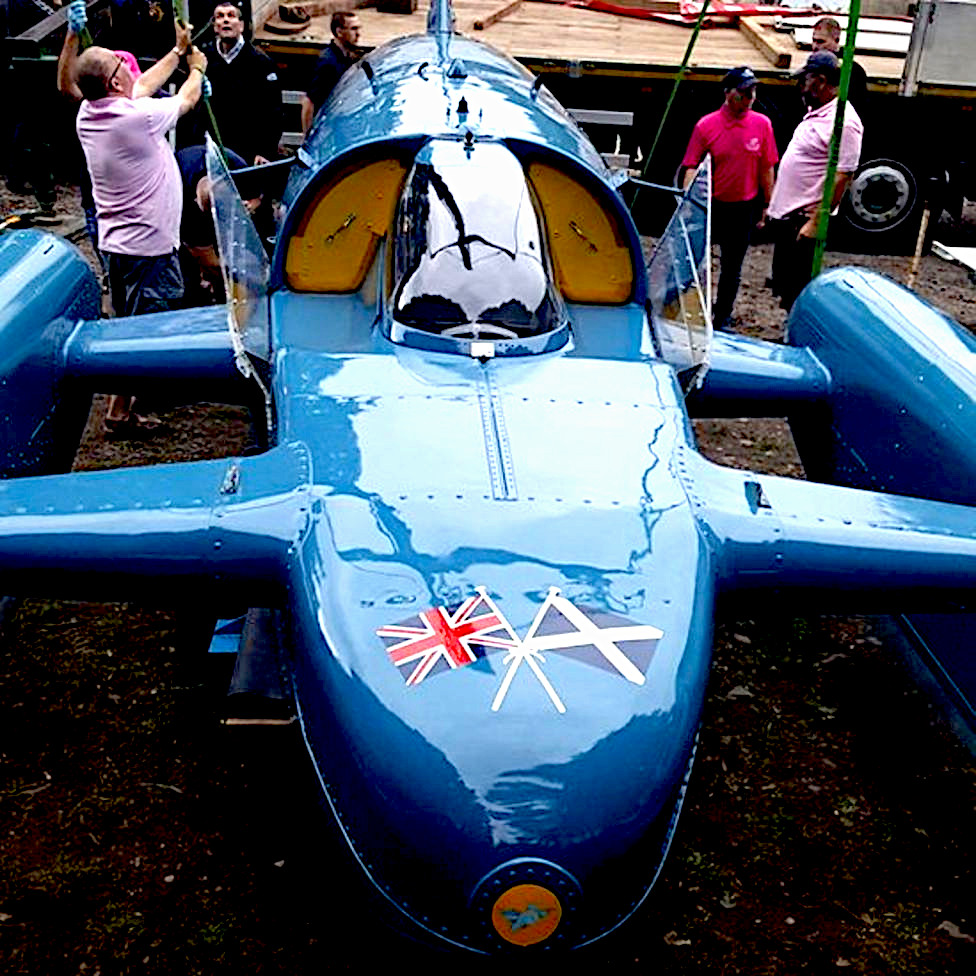 REFERENCE
https://www.dailymail.co.uk/news/article-9725661/Bitter-legal-row-Donald-Campbells-Bluebird.html
https://www.nwemail.co.uk/news/20250995.bill-smith-keen-meeting-ruskin-museum-bluebird-k7/
https://www.nwemail.co.uk/news/19558435.bluebird-k7-might-dismantled/
https://www.bbc.co.uk/news/uk-england-cumbria-58205737
https://www.bbc.co.uk/news/uk-scotland-glasgow-west-45068703
https://www.dailymail.co.uk/news/article-9725661/Bitter-legal-row-Donald-Campbells-Bluebird.html
https://www.nwemail.co.uk/news/20250995.bill-smith-keen-meeting-ruskin-museum-bluebird-k7/
https://www.nwemail.co.uk/news/19558435.bluebird-k7-might-dismantled/
https://www.bbc.co.uk/news/uk-england-cumbria-58205737
https://www.bbc.co.uk/news/uk-scotland-glasgow-west-45068703