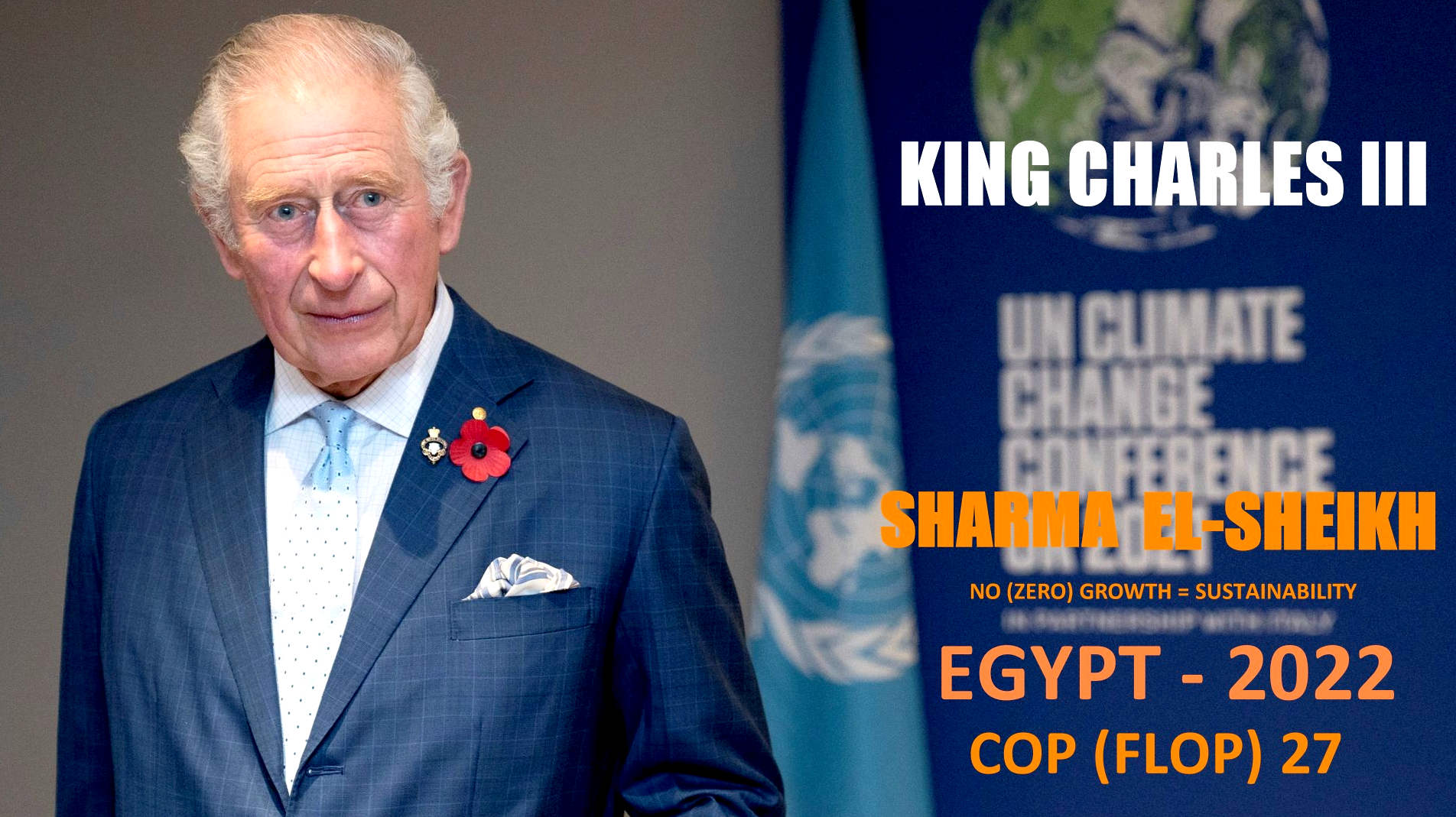 The United Kingdom's administration and policies are so corrupted with little fiefdoms, that the country is effectively a police state. The present Conservative government is seeking to limit basic human right even further, to prevent peaceful demonstrations and other civil disobedience.
They are more or less, following the path trodden by Henry VIII and Adolf Hitler, both of whom systematically removed the right of the citizen to challenge corruption. In the case King Henry, he simply made his word law, and chopped off the head of anyone who disagreed with him. Adolf, set up the Gestapo and concentration camps. The end result was much the same. The ordinary voter was completely muzzled.
The avatar of fascism posed the century's greatest threat to democracy
and redefined the meaning of evil forever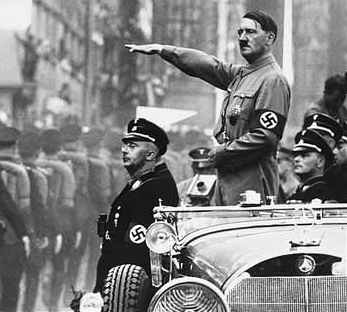 Adolf Hitler and chum Heinrich Himmler [Allegedly, Adolf Hitler did not die in that bunker incident C.1949. Apparently, he was fired into England, strapped to a V1 rocket, leaving behind his false teeth. He parachuted into Wealden that night hoping to meet some deviants, who'd arranged a new identity for their fallen comrade. Apparently, he landed in Crowborough, shaved off his moustache and was mistaken for a council official. Job done.]
What was the secret of his power over his listeners? His demagogic appeal to immoderation, to excess and to simplifying hate? They spoke of his intuitive powers and his "luck" (he escaped several attempts on his life).
Adolf Hitler or the incarnation of absolute evil; this is how future generations will remember the all-powerful Fuehrer of the criminal Third Reich. Compared with him, his peers Mussolini and Franco were novices. Under his hypnotic gaze, humanity crossed a threshold from which one could see the abyss.
At the same time that he terrorized his adversaries, he knew how to please, impress and charm the very interlocutors from whom he wanted support. Diplomats and journalists insist as much on his charm as they do on his temper tantrums. The savior admired by his own as he dragged them into his madness, the Satan and exterminating angel feared and hated by all others, Hitler led his people to a shameful defeat without precedent. That his political and strategic ambitions have created a dividing line in the history of this turbulent and tormented century is undeniable: there is a before and an after. By the breadth of his crimes, which have attained a quasi-ontological dimension, he surpasses all his predecessors: as a result of Hitler, man is defined by what makes him inhuman. With Hitler at the head of a gigantic laboratory, life itself seems to have changed.
If all this seems rather like the inner workings of your local authority, then we have struck a chord. When faced with criticism or found to have done wrong, council's tend to stonewall. As the pressure mounts, they try to crush complainants, avoid giving persons their right to a fair hearing. All thins considered, what is the difference between the way your council treat you and the way the Gestapo operated under Heinrich Himmler?
Founder and leader of the Nazi Party, Reich Chancellor and guiding spirit of the Third Reich from 1933 to 1945, Head of State and Supreme Commander of the Armed Forces, Adolf Hitler was born in Braunau am Inn, Austria, on 20 April 1889. The son of a fifty-two-year-old Austrian customs official, Alois Schickelgruber Hitler, and his third wife, a young peasant girl, Klara Poelzl, both from the backwoods of lower Austria, the young Hitler was a resentful, discontented child. Moody, lazy, of unstable temperament, he was deeply hostile towards his strict, authoritarian father and strongly attached to his indulgent, hard-working mother, whose death from cancer in December 1908 was a shattering blow to the adolescent Hitler.
After spending four years in the Realschule in Linz, he left school at the age of sixteen with dreams of becoming a painter. In October 1907, the provincial, middle-class boy left home for Vienna, where he was to remain until 1913 leading a bohemian, vagabond existence. Embittered at his rejection by the Viennese Academy of Fine Arts, he was to spend "five years of misery and woe" in Vienna as he later recalled, adopting a view of life which changed very little in the ensuing years, shaped as it was by a pathological hatred of Jews and Marxists, liberalism and the cosmopolitan Habsburg monarchy.
Existing from hand to mouth on occasional odd jobs and the hawking of sketches in low taverns, the young Hitler compensated for the frustrations of a lonely bachelor's life in miserable male hostels by political harangues in cheap cafes to anyone who would listen and indulging in grandiose dreams of a Greater Germany.
In Vienna he acquired his first education in politics by studying the demagogic techniques of the popular Christian-social Mayor, Karl Lueger, and picked up the stereotyped, obsessive anti-Semitism with its brutal, violent sexual connotations and concern with the "purity of blood" that remained with him to the end of his career. From crackpot racial theorists like the defrocked monk, Lanz von Liebenfels, and the Austrian Pan-German leader, Georg von Schoenerer, the young Hitler learned to discern in the "Eternal Jew" the symbol and cause of all chaos, corruption and destruction in culture, politics and the economy. The press, prostitution, syphilis, capitalism, Marxism, democracy and pacifism--all were so many means which "the Jew" exploited in his conspiracy to undermine the German nation and the purity of the creative Aryan race.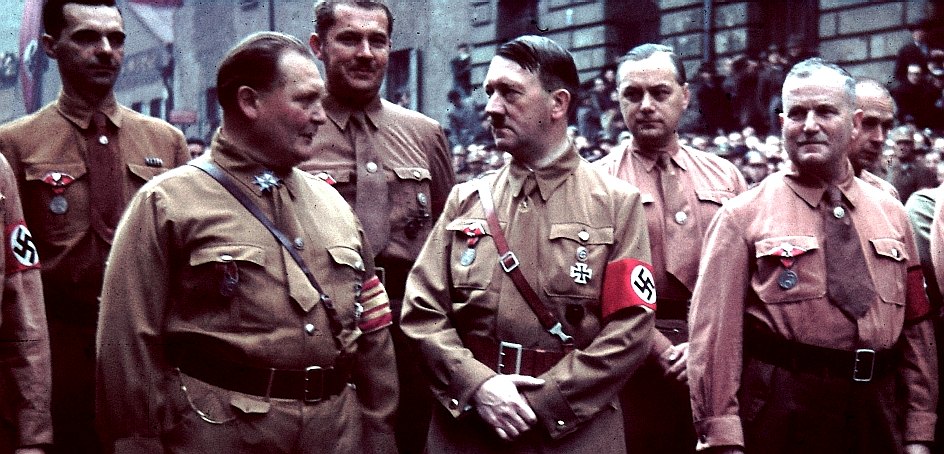 In May 1913 Hitler left Vienna for Munich and, when war broke out in August 1914, he joined the Sixteenth Bavarian Infantry Regiment, serving as a despatch runner. Hitler proved an able, courageous soldier, receiving the Iron Cross (First Class) for bravery, but did not rise above the rank of Lance Corporal. Twice wounded, he was badly gassed four weeks before the end of the war and spent three months recuperating in a hospital in Pomerania. Temporarily blinded and driven to impotent rage by the abortive November 1918 revolution in Germany as well as the military defeat, Hitler, once restored, was convinced that fate had chosen him to rescue a humiliated nation from the shackles of the Versailles Treaty, from Bolsheviks and Jews.
Assigned by the Reichswehr in the summer of 1919 to "educational" duties which consisted largely of spying on political parties in the overheated atmosphere of post-revolutionary Munich, Hitler was sent to investigate a small nationalistic group of idealists, the German Workers' Party. On 16 September 1919 he entered the Party (which had approximately forty members), soon changed its name to the National Socialist German Workers' Party (NSDAP) and had imposed himself as its Chairman by July 1921.
Hitler discovered a powerful talent for oratory as well as giving the new Party its symbol — the swastika — and its greeting "Heil!." His hoarse, grating voice, for all the bombastic, humourless, histrionic content of his speeches, dominated audiences by dint of his tone of impassioned conviction and gift for self-dramatization. By November 1921 Hitler was recognized as Fuhrer of a movement which had 3,000 members, and boosted his personal power by organizing strong- arm squads to keep order at his meetings and break up those of his opponents. Out of these squads grew the storm troopers (SA) organized by Captain Ernst Röhm and Hitler's black-shirted personal bodyguard, the Schutzstaffel (SS).
Hitler focused his propaganda against the Versailles Treaty, the "November criminals," the Marxists and the visible, internal enemy No. 1, the "Jew," who was responsible for all Germany's domestic problems. In the twenty-five-point programme of the NSDAP announced on 24 February 1920, the exclusion of the Jews from the Volk community, the myth of Aryan race supremacy and extreme nationalism were combined with "socialistic" ideas of profit-sharing and nationalization inspired by ideologues like Gottfried Feder. Hitler's first written utterance on political questions dating from this period emphasized that what he called "the anti-Semitism of reason" must lead "to the systematic combating and elimination of Jewish privileges. Its ultimate goal must implacably be the total removal of the Jews."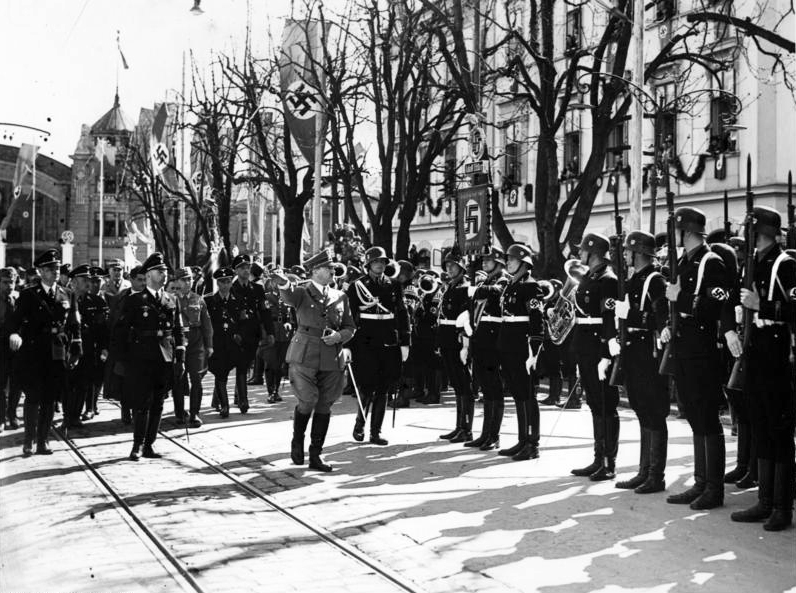 By November 1923 Hitler was convinced that the Weimar Republic was on the verge of collapse and, together with General Ludendorff and local nationalist groups, sought to overthrow the Bavarian government in Munich. Bursting into a beer-hall in Munich and firing his pistol into the ceiling, he shouted out that he was heading a new provisional government which would carry through a revolution against "Red Berlin." Hitler and Ludendorff then marched through Munich at the head of 3,000 men, only to be met by police fire which left sixteen dead and brought the attempted putsch to an ignominious end. Hitler was arrested and tried on 26 February 1924, succeeding in turning the tables on his accusers with a confident, propagandist speech which ended with the prophecy: "Pronounce us guilty a thousand times over: the goddess of the eternal court of history will smile and tear to pieces the State Prosecutor's submission and the court's verdict for she acquits us." Sentenced to five years' imprisonment in Landsberg fortress, Hitler was released after only nine months during which he dictated Mein Kampf (My Struggle) to his loyal follower, Rudolf Hess. Subsequently the "bible" of the Nazi Party, this crude, half-baked hotchpotch of primitive Social Darwinism, racial myth, anti-Semitism and lebensraum fantasy had sold over five million copies by 1939 and been translated into eleven languages.
The failure of the Beer-Hall putsch and his period of imprisonment transformed Hitler from an incompetent adventurer into a shrewd political tactician, who henceforth decided that he would never again confront the gun barrels of army and police until they were under his command. He concluded that the road to power lay not through force alone but through legal subversion of the Weimar Constitution, the building of a mass movement and the combination of parliamentary strength with extra-parliamentary street terror and intimidation. Helped by Goering and Goebbels he began to reassemble his followers and rebuild the movement which had disintegrated in his absence.
In January 1925 the ban on the Nazi Party was removed and Hitler regained permission to speak in public. Outmaneuvering the "socialist" North German wing of the Party under Gregor Strasser, Hitler re-established himself in 1926 as the ultimate arbiter to whom all factions appealed in an ideologically and socially heterogeneous movement. Avoiding rigid, programmatic definitions of National Socialism which would have undermined the charismatic nature of his legitimacy and his claim to absolute leadership, Hitler succeeded in extending his appeal beyond Bavaria and attracting both Right and Left to his movement.
Though the Nazi Party won only twelve seats in the 1928 elections, the onset of the Great Depression with its devastating effects on the middle classes helped Hitler to win over all those strata in German society who felt their economic existence was threatened. In addition to peasants, artisans, craftsmen, traders, small businessmen, ex-officers, students and declasse intellectuals, the Nazis in 1929 began to win over the big industrialists, nationalist conservatives and army circles. With the backing of the press tycoon, Alfred Hugenberg, Hitler received a tremendous nationwide exposure just as the effects of the world economic crisis hit Germany, producing mass unemployment, social dissolution, fear and indignation. With demagogic virtuosity, Hitler played on national resentments, feelings of revolt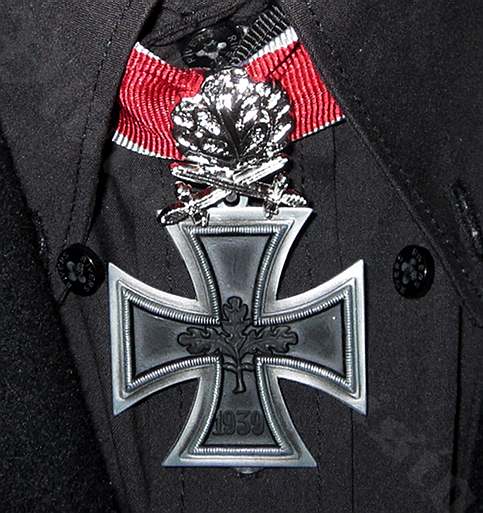 The disaster before Moscow in December 1941 led him to dismiss his Commander-in-Chief von Brauchitsch, and many other key commanders who sought permission for tactical withdrawals, including Guderian, Bock, Hoepner, von Rundstedt and Leeb, found themselves cashiered. Hitler now assumed personal control of all military operations, refusing to listen to advice, disregarding unpalatable facts and rejecting everything that did not fit into his preconceived picture of reality. His neglect of the Mediterranean theatre and the Middle East, the failure of the Italians, the entry of the United States into the war, and above all the stubborn determination of the Russians, pushed Hitler on to the defensive. From the winter of 1941 the writing was on the wall but Hitler refused to countenance military defeat, believing that implacable will and the rigid refusal to abandon positions could make up for inferior resources and the lack of a sound overall strategy.
Rommel's defeat at El Alamein and the subsequent loss of North Africa to the Anglo-American forces were overshadowed by the disaster at Stalingrad where General von Paulus's Sixth Army was cut off and surrendered to the Russians in January 1943. In July 1943 the Allies captured Sicily and Mussolini's regime collapsed in Italy. In September the Italians signed an armistice and the Allies landed at Salerno, reaching Naples on 1 October and taking Rome on June 4, 1944. The Allied invasion of Normandy followed on June 6, 1944 and soon a million Allied troops were driving the German armies eastwards, while from the opposite direction the Soviet forces advanced relentlessly on the Reich. The total mobilization of the German war economy under Albert Speer and the energetic propaganda efforts of Joseph Goebbels to rouse the fighting spirit of the German people were impotent to change the fact that the Third Reich lacked the resources equal to a struggle against the world alliance which Hitler himself had provoked.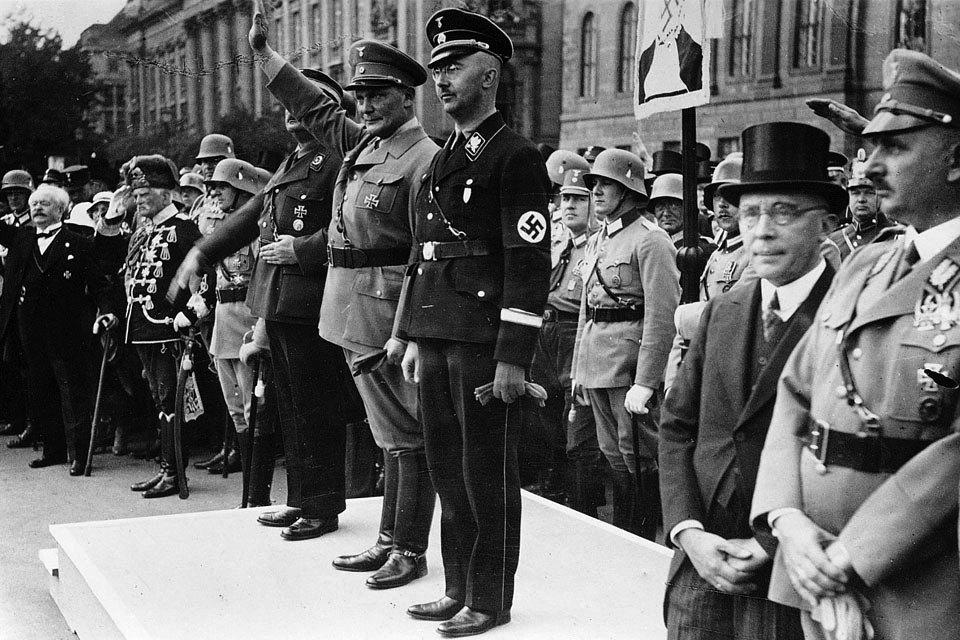 Allied bombing began to have a telling effect on German industrial production and to undermine the morale of the population. The generals, frustrated by Hitler's total refusal to trust them in the field and recognizing the inevitability of defeat, planned, together with the small anti-Nazi Resistance inside the Reich, to assassinate the Fuhrer on 20 July 1944, hoping to pave the way for a negotiated peace with the Allies that would save Germany from destruction. The plot failed and Hitler took implacable vengeance on the conspirators, watching with satisfaction a film of the grisly executions carried out on his orders.
As disaster came closer, Hitler buried himself in the unreal world of the Fuhrerbunker in Berlin, clutching at fantastic hopes that his "secret weapons," the V-1 and V-2 rockets, would yet turn the tide of war. He gestured wildly over maps, planned and directed attacks with non-existent armies and indulged in endless, night-long monologues which reflected his growing senility, misanthropy and contempt for the "cowardly failure" of the German people.
As the Red Army approached Berlin and the Anglo-Americans reached the Elbe, on 19 March 1945 Hitler ordered the destruction of what remained of German industry, communications and transport systems. He was resolved that, if he did not survive, Germany too should be destroyed. The same ruthless nihilism and passion for destruction which had led to the extermination of six million Jews in death camps, to the biological "cleansing" of the sub-human Slavs and other subject peoples in the New Order, was finally turned on his own people.
On April 29, 1945, he married his mistress Eva Braun and dictated his final political testament, concluding with the same monotonous, obsessive fixation that had guided his career from the beginning: "Above all I charge the leaders of the nation and those under them to scrupulous observance of the laws of race and to merciless opposition to the universal poisoner of all peoples, international Jewry."
The following day Hitler committed suicide, shooting himself through the mouth with a pistol. His body was carried into the garden of the Reich Chancellery by aides, covered with petrol and burned along with that of Eva Braun. This final, macabre act of self-destruction appropriately symbolized the career of a political leader whose main legacy to Europe was the ruin of its civilization and the senseless sacrifice of human life for the sake of power and his own commitment to the bestial nonsense of National Socialist race mythology. With his death nothing was left of the "Greater Germanic Reich," of the tyrannical power structure and ideological system which had devastated Europe during the twelve years of his totalitarian rule.
Ultimately, the ignominious demise of one of the world's evil dictators will be the end of all corrupt councils, provided the public keep up the pressure and demand an end to the Gestapo tactics employed by planning departments the length and breadth of the United Kingdom.
AMAZON COMMENT - My Struggle is a book that few people will want to read. This is because it was written by one of the most reviled men in history and because of the way it was written. The impression of Hitler from films and World War II books is simply a negative one: An evil war mongerer responsible for the deaths of millions. Reading his own book is intriguing and this is part of its relatively small appeal. In a similar way that classic books (e.g. Anna Karenina/Dead Souls) begin, after the first few pages you realise you are reading something created by an exceptional mind. However this book is not a beautiful story. This is not like a magazine article tackling a hard subject with little time which gives the astute reader the impression that he or she knows more about the subject than the writer. The first book `A Reckoning is partially a story of Hitler s life, World War One and much of his theories and philosophy. You enter into a strange world of paragraph long sentences, repetition, constantly twisting and turning. Hitler has a go at politicians, policies, parasites etc. and in a classic way is blind to the concept that his ideas might be as blinkered as those he attacks. He believes anything miserable, weak or cowardly must be eradicated, having no compassion or pity for anything that does not conform to his ideals. Hatred is a large part of this book. This book has more hatred in it than a quarter of a mile long oil tanker has oil. There is hatred for Jews, hatred against anyone who is not ulta-nationalistic or anyone not German. The author gives the impression that if the whole world were wiped out except for Germany this in itself would not be a bad thing - By A Customer on 22 Mar. 2006
LINKS & REFERENCE
Adolf Hitler

German Chancellor

Herman Goring

Reichsmarschall Luftwaffe

Heinrich Himmler

Reichsführer Schutzstaffel

Joseph Goebbels

Reich Minister Propaganda

Philipp Bouhler SS

NSDAP Aktion T4

Dr Josef Mengele

Physician Auschwitz

Martin Borman

Schutzstaffel

Adolph Eichmann

Holocaust Architect

Erwin Rommel

The Desert Fox

Rudolf Hess

Auschwitz Commandant

Karl Donitz

Submarine Commander

Albert Speer

Nazi Architect
Victorio Scarpa, David Whibley, Julian Black, Daniel Goodwin, Christine Arnold
Christine Nuttall, David Phillips, Douglas Moss, Ian Kay, Charles Lant
Abbott Trevor - Alcock Charmain - Ditto - Arnold Chris (Christine) - Barakchizadeh Lesley - Paul Barker - Bending Christopher
Black Julian - Boakes Beverley - Bradshaw Clifford - Brigginshaw Marina - Brown Ashley - Coffey Patrick - Douglas Sheelagh
Dowsett Timothy - Flemming Mike - Forder Ralph - Garrett Martyn - Goodwin Daniel - Henham J - Holness Derek
Hoy Thomas - Johnson Geoff - Kavanagh Geoff - Kay Ian - Kay I. M. - Barbara Kingsford - Lant Charles - Mercer Richard
Mileman Niall - Moon Craig - Moss Douglas, J. - Nuttall Christine - Pettigrew Rex - Phillips David - Scarpa Victorio - Scott Trevor
Kevin Stewart - Wakeford M. - Whibley David - White, George - Williams Kelvin - Wilson Kenneth - White Steve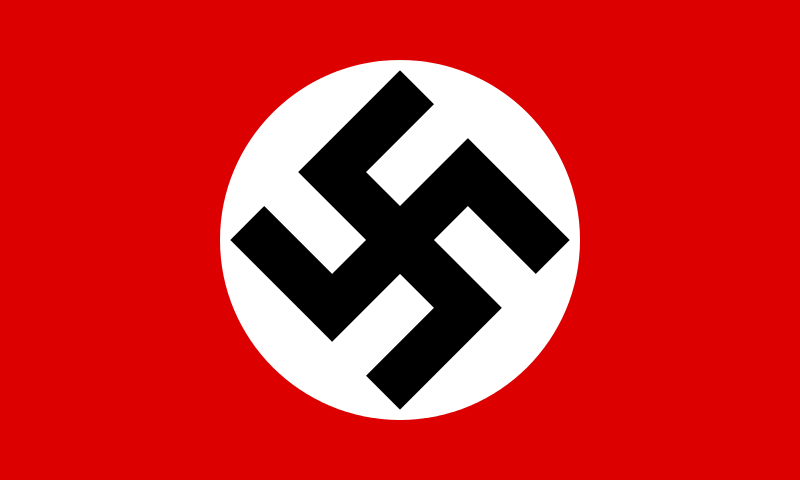 Fast forward to 2000 and looking to the future, if a citizen openly challenges the system, they will be arrested, their home ransacked, privileged legal documents stolen, for starters. They may also be framed and sent to the Gulag, or just assassinated very quietly. And this is not Communist China, Iran, or Russia. This is happening in Britain. Beginning with corruption in the planning system, that is not investigated, because local police are in bed with the perverse actions of the local authority - and effectively on the payroll from council taxes. Such as uncovered with Wealden District Council in 1997, then pushed through as a conspiracy to prevent those abuses of authority from being investigated.
However, there is no statute of limitations on conspiracies. A very serious crime.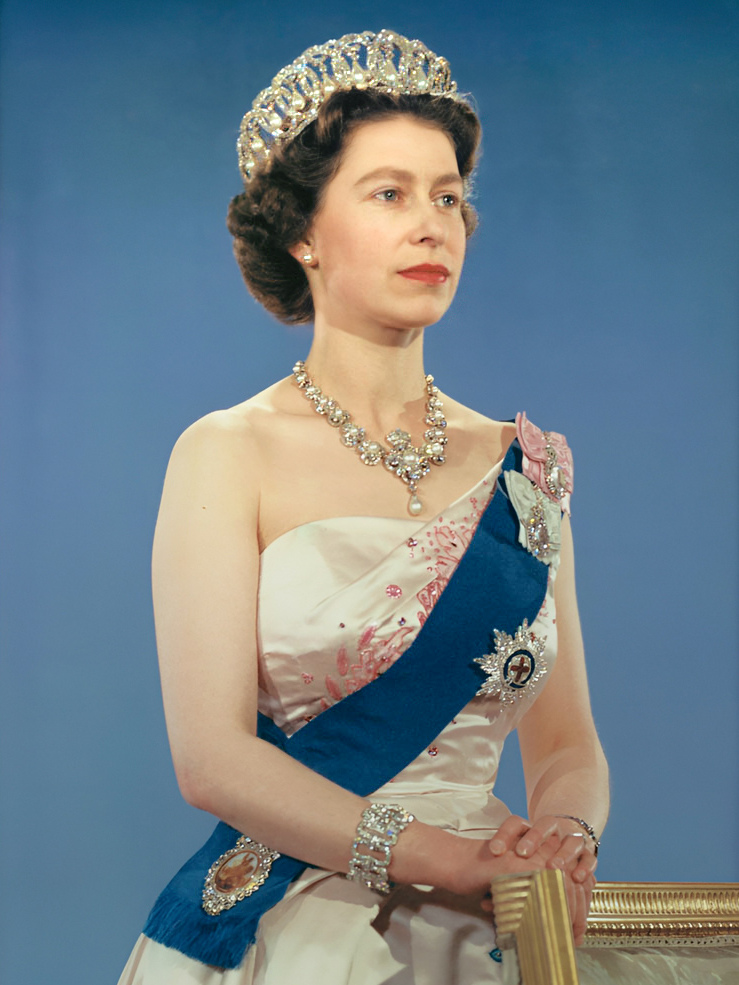 Corruption lurks in every corridor of local and national buildings. Queen Elizabeth was asked for help. She declined. The duty to provide an effective remedy, now rests with King Charles.
Incompatibility in Human Rights terms, is where one statute does not comply with HR statute. The European Convention does include Article 13, the right to an effective remedy.
The United Kingdom does not yet have a Written Constitution. Perhaps with the abolition of the monarchy and a decent set of rules by which successive governments and the courts may operate effectively, the country may be able to survive on a planet that is also in deep shit from climate change, pollution and falling agricultural output.
Corruption and injustice is such a big thing, that the subject is included in the UN's Sustainability Development Goals (SDGs). There is a United Nations Convention Against Corruption. As per General Assembly resolution 58/4 of 31 October 2003.


REFERENCE
https://